Top 8 Items to Try at Chihuahua's, Your Local Mexican Restaurant
Whether it's your first visit to Chihuahua's Mexican Cantina and Grill or your 50th, it's always great to try something new and get the inside scoop on the best dishes! Or maybe you just can't decide? That's why we've put together a list of the top 8 foods and drinks on both Chihuahua's Reno and Winnemucca menus. With the following guide, we're certain you will be delighted and taken on a tasteful journey when you dine with us!
A Taste Of Chihuahua's Restaurant Menu 
#1: El Volcan Molcajete
Made for sharing with 2-3 others, this dish overflowing with spicy goodness is prepared and served in a bowl made of volcanic stone, inspired by the volcano in Mexico shaped just like it! Inside, you'll indulge in thinly sliced and marinated arrachera, spicy chorizo, tart and juicy nopal pads, fresh shrimp, and chicken. Topping it all off is moist and tangy queso fresco, sizzling ranchera sauce, and onions. This one-of-a-kind delicacy is served with a side of rice, beans, and tortillas, so you leave Chihuahua's with a unique taste of Mexico that can't be found anywhere else!
#2: Burrito Chihuahua
A burrito made Chihuahua's style is not just any burrito. A tortilla filled with spicy carne asada, rice, beans, sour cream, onions, tomatoes, cilantro, and cheese, all smothered in our famous Salsa Verde should be just enough description for you to want to wolf down our most popular burrito. And the guacamole addition is a must!
#3: Texas Queso Dip
Our Queso Dip is a HUGE fan favorite that is made with fresh, off-the-brick Mozzarella white cheese, jalapenos and green chiles, cumin and chili powder, and even bits of ground beef or spicy chorizo can be added upon request. As we serve our fan favorite Texas Queso Dip at Chihuahua's, you can bet it's chile con queso all the way!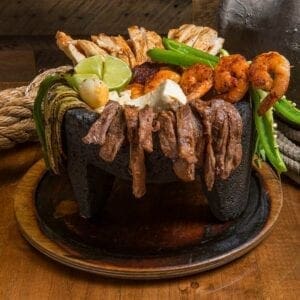 #4: Chihuahua's Margarita and Pineapple Jalapeno Margarita
Any good top shelf margarita is always made with these no-fail ingredients: good quality aged Tequila, high-end orange liqueur, lime juice, and cane sugar. At Chihuahua's, we use all organic agave nectar for sweetener to stir up our fresh juice top shelf Chihuahua's Margarita, and our Pineapple Jalapeno Margarita for a sweet, tart, and savory blend that is sure to jumpstart your tastebuds!
#5: Chile Rellenos
If you love stuffed peppers, and have been searching for the best chile relleno around, you've found it with Chihuahua's! We take two big, juicy, fresh green chiles and stuff them with Monterey Jack cheese, with your choice of flour or corn tortillas. Once you taste our Chile Rellenos, all of Northern Nevada will soon know about the best chile relleno, period!
#6: Carne Asada Nortena 
Our beloved Carne Asada is created from a juicy charbroiled sirloin steak with all the seasonings you would want on your piece of sirloin! To compliment this masterpiece is rice and beans, grilled onions, and guacamole. If flank steak is more up your alley, try our Arrachera Nortena, charbroiled with Mexican style chorizo, grilled onions, and served with two cheese quesadillas!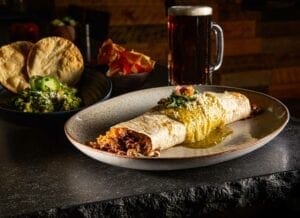 #7: Pozole Verde
If you love traditional Mexican soup that is corn-based, and green chile peppers, you'll love Chihuahua's Pozole Verde! Try our Pork Pozole Verde, a new "lunch favorite" Soup and Salad Combo, made with your choice of lettuce or cabbage, onion, garlic, radishes, avocado, and salsa or limes. A piping hot bowl beautifully presents authentic Mexican cuisine at its finest, when you're dining at Chihuahua's Cantina and Grill!
#8: Chilaquiles
From our Winnemucca Brunch menu: Chilaquiles Verdes O Rojos! Chihuahua's chilaquiles are made with tortilla chips fried in our savory red chile sauce or our tangy green sauce. Top 'em off with two eggs, salty and crumbly Cotija cheese, sour cream, and onion, and you've got yourself a guaranteed fantastic start to your day! Oh, and don't forget the side of beans!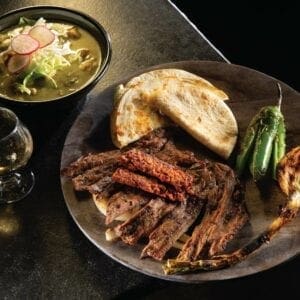 The Best Mexican Food in Reno and Winnemucca!
If you're looking for the next best dish at your local Mexican restaurant, this Top 8 Dishes from Chihuahua's Mexican Cantina and Grill has you covered! From traditional Mexican ingredients to a delightfully surprising concoction of flavors, there is something to suit every palate on the Reno and Winnemucca food menus! Looking to cater an event in Reno? Chihuahua's does that too! Take a look at our full Reno Food Menu and Winnemucca Food Menu, and book your reservation with Chihuahua's today!